An Endurance Brand New DPSS Laser Module For Marking on all types of materials including metals.
One of the best jewelry marking head on the market

Laser Marking on Silver, Gold, Platinum & Palladium!
 More jewelry examples
Color engraving on sapphire glass (with no paint and with no chemicals)
Photoengraving on PLA plastic
Color glass engraving (no paint, no chemicals)
A DIY PCB making with the DPSSL
Color titanium laser engraving
Compatible with all CNC frames. Can be installed on many 3D printers and engraving machines.
Engrave on all metallic surfaces!
Thin and accurate marking
Sapphire glass engraving (marking)
Easy wiring with EggBot, GoodEnoughCNC, MPCNC, OpenBuilds OX CNC Machine, Maslow, MillRight CNC, Next 3D, Ooznest OX, Scan2CAD and CNC, Shapeoko, WhittleCNC, X-Carve, Ortur, Neje, Shark (by NextWave), Eleksmaker, CNCC Laseraxe, CNC 3018, Sain Smart (Genmitsu) and many other. Key benefits of an Endurance DPSS laser module.
Ability to install on almost any 3D printer and any CNC machine or engraving machine.
High peak power enables accurate and deep engraving.
High laser engraving precision 57 um (microns) (40 um available upon a special request).
High reliability of the laser module 10 000+ hours.
An advanced and universal and compatible mounting bracket.
Metal in-depth engraving (marking)
All lasers pass individual tests before the shipment.
Items of specs

Testing

Rep. rate

19.01kHz

Pulse duration

7.2ns

Average power

4.27W

Ave power stability 

 (over 4 hours)

0.585%

Transverse mode

Multimode


Beam diameter

~6mm

Beam divergence, full angle

<1.5mrad

Beam height from base

16.5mm

Dimensions of Laser Head

297×45×53.8mm3

Weight of Laser Head

0.86kg

Power Supply

12V/25A DC

Integrated Driver

PSU-FL-OEM

Dimensions of Driver

225×169×73mm3

Weight of Driver

3.3kg
Application of an Endurance 4 watt Nd:YAG 1064 nm impulse infrared (1064 nm) laser unit.
Metal marking: Most of the metal material: gold, silver, copper, aluminum, iron, stainless steel, galvanized steel, etc);
Most of the Plastics (PC, PVC, PE, HDPE, ABS, PPR, PET, HIPS, PS, PP, PPO, PA, POM, PMMA, AS, etc), plastic film, print, and package.


Our lasers are fully compatible with popular 3D printers and CNC machines: CR-10, Ender 2, Ender 3, Ender 4, Ender 5, Prusa i3,  Lutzbot, Acro, Anet A8, Flashforge, Anycubic i3, Wanhao, Tevo, Tronxy, ADIMLab, Robo 3D and many others.
Software compatibility
Our DPSS laser module can be operated from any software you run to control your 3D printer / CNC machine / XY plotter (works great with GRBL and Marlin firmware).
We recommend: an Endurance free plugin to create g-code
Compatible software: T2Laser / Lightburn.
4 watt DPSSL Control
via PWM (5V) TTL wires.
Can be operated via analog input (can be offered upon requests)
The frequency of the PWM controller (TTL signal) is 25KHz.
Drawing and sketches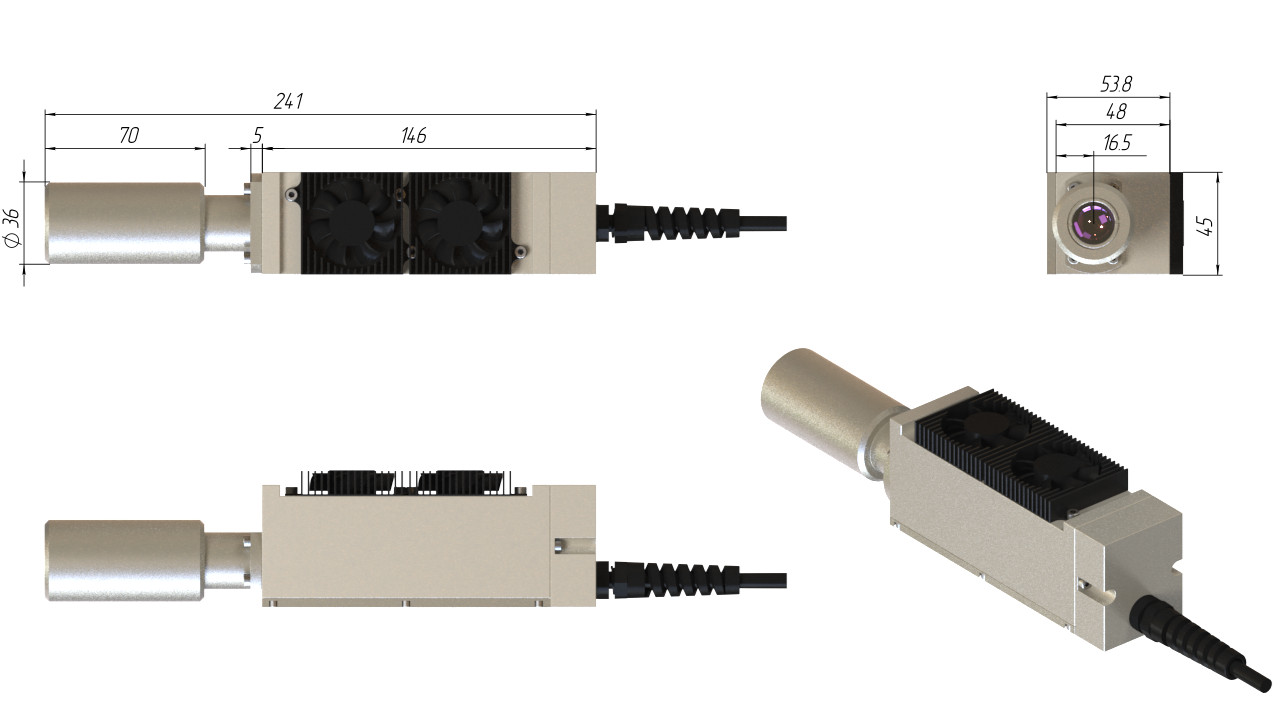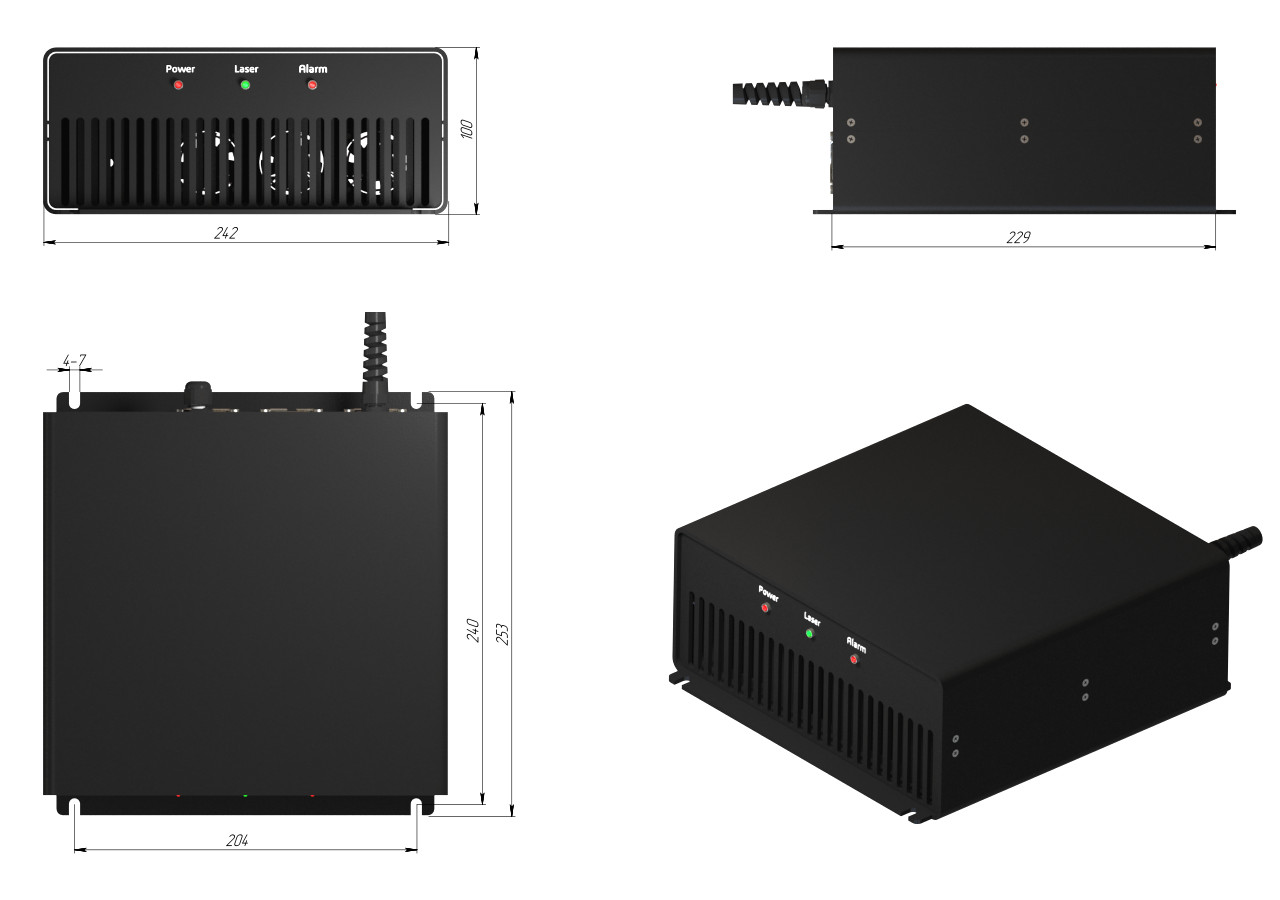 How to install (wiring + mounting) the laser on 3D printer (Anet A8 example)
Get all you need in the package to get started.

DPSS laser module (1064 nm) with 4 watt optical power.
AC/DC 12V 25A (PSU).
Protective goggles for 1064 nm wavelength.
An advanced mounting bracket.
Protective gloves.
Focusing plate.
Stickers and magnets from Endurance Lasers LLC