An Endurance Laser box ver 2.0 
Key features of an Endurance MO2 PCB:
1. Analog input 0-10 PWM output 0-100%.
2. TTL input up to 24V PWM output.
3. The input in comparator mode 5V on 2V laser is turned off.
4. Focusing mode laser PWM 1%.
5. Adjustable laser voltage threshold of 4.5 to 5.5V
6. Protection against reverse polarity reversal of analog, comparator and TTL inputs.
7. The delay in applying the voltage to the laser when the unit is turned on 0.5 – 1 sec.
8. Ability to install both large and small box without modifications of the printed circuit board.
9. Ability to run an impulse mode with a wide variety of frequency and duration width.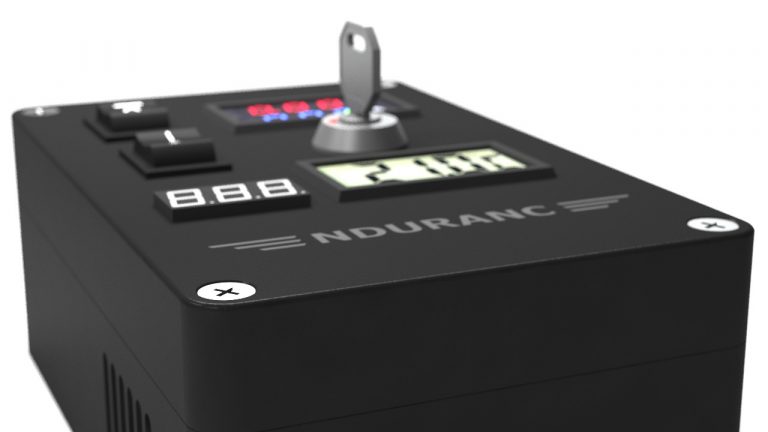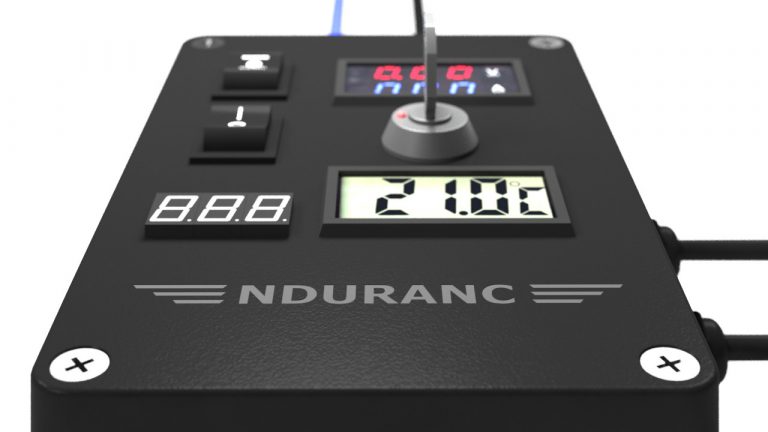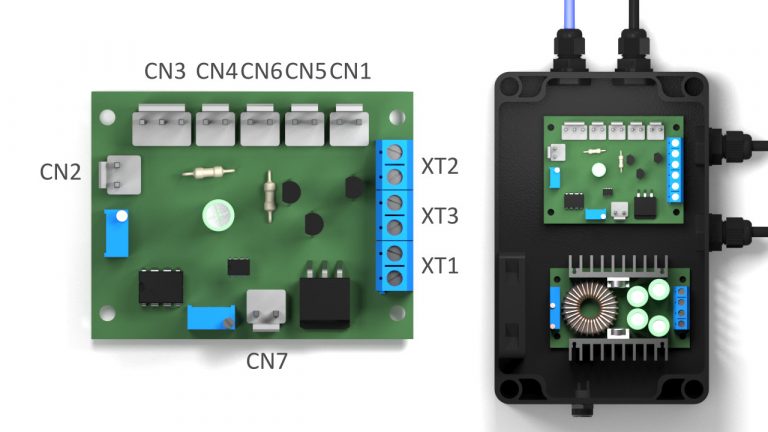 CN1 – Power Board +12V
CN2 – Analog Input/Inverted input
CN3 – Mode select switch SW1
CN4 – PWM Input
CN5 – Fan
CN6 – Input Voltage Voltmeter
CN7 – DC-DC output voltage voltmeter
XT1 – DC-DC
XT2 – Laser
XT3 – Laser current measurement. Ammeter
Technical Data for an Endurance Laser box ver. 2.0
| | |
| --- | --- |
| Supply voltage | 12 VDC+-10% |
| Minimum Current Power Supply (For laser diodes up to 10W)          | 5 A+-10% |
| Rated Output Current (For laser diodes up to 10W)          | 5 А |
| Max Output Current (Power supply current must be at least 10A) | 8 А |
| Laser diode voltage max | 5.5V |
| Laser diode voltage min | 1V |
| Laser diode current  | 1A - 6A |
| Laser diode current max | 8A* |
| Max. PWM  Frequency | 50 KHz |
| Min. PWM Frequency | 15 Hz |
| (You need to know if you connect to a 3D printer controller) | |
| | |
| Maximum PWM duty cycle | 99,90% |
| (PWM frequency over 50Hz) | |
| | |
| Maximum PWM duty cycle | 90% |
| (PWM frequency from 15 to 50 Hz) | |
| | |
| PWM Input Voltage | 3V - 12V |
| (Left, Blue wire) | |
| | |
| PWM Input Voltage | 3V - 12V |
| (Right, black wire) | 12V – 24V |
| | |
| Rise Time | 300 nS |
| (In relation to the input pulse of the PWM) | |
| | |
| Analog Input Voltage | 0V - 10V |
| PWM Duty Cycle Based on Analog Input Voltage | 0% - 99,9% |
| PWM frequency when working with analog input | 500 HZ |
| Laser focus mode | PWM Duty 0,1% |
| Protection of the output voltage of the laser diode min | 4.5V |
| Protection of the output voltage of the laser diode max | 5.5V |
| Delay range before start the laser: | 0-1.5 sec (adjustable) |